Isplati se hodati. Isplata je u utrošenim kalorijama, onome čemu težimo da bismo skinuli koji gram sala.
Isplata je, naravno, i u aganžmanu koje ulaže vaše srce dok hodate, dobrobiti za njega i ceo krvotok i kondiciju.
Verujem u prostu računicu, energija unutra, energija napolje. Nije sve u tome šta jedemo, već i koliko jedemo a koliko se trošimo.
Mnoga istraživanja će pokazati da se više trošimo dok trčimo, međutim, nikako ne bih zanemarila hodanje.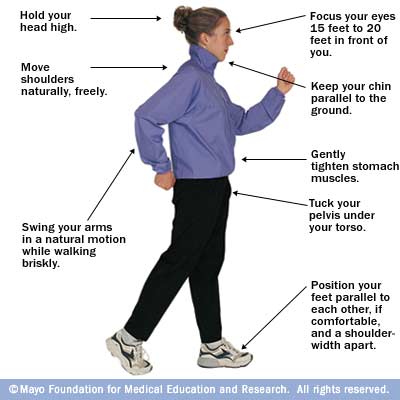 [quote_left]Hodanje je besplatno, lako i jako korisno za nas. [/quote_left] Evo, pogledajte. Jeste da hodanje oduzima viÅ¡e vremena i da, bar ja, imam snažan osećaj da sam jako "peÅ¡ke" kada hodam tamo gde obično trčim, ali,
brzo hodanje je mama
.
Jutros rano sam ishodala turu od 5 km, prosečnom brzinom od 6.7 km/h, istom stazom na keju kojom trčim (#onokad). Brzo hodanje je za mene povratak u kondiciju i rutinu, čekajući zeleno svetlo od [quote_right]hodanje povećava kondiciju, spušta visok krvni pritisak, spušta loš i podiže dobar holesterol i pomaže u održavanju težine ili gubitku viška kilograma[/quote_right]sportskog lekara/fizijatra da konačno potrčim (#ponovo).
Tzv. brzo hodanje. 5 km. Trebalo mi je 45 minuta da pređem turu koju pretrčim za 30 kad sam u fazonu, i 35 minuta kad sam u manje dobrom fazonu.
Znate kakva sam bila posle toga? Mokra kao moča!
Znate li kako sam se osećala posle toga? Kao kraljica endorfina!
Znate li koji mišići rade dok hodamo brzo? Cele noge, guza (o, da! na sasvim drugačiji način nego kod trčanja) i ruke s ramenima.
Hodanje Vs. trčanje
Uporedila dve rekreacije, poslednju turu trčanja kada sam se povredila i ovo jutarnje hodanje, i dobila ovo:
Primetite prvi i poslednji red. Potrošila sam istu količinu kalorija na istoj turi. Trebalo mi je danas samo 12 minuta više za to!
Ovde uzmite u obzir da sam 1. jula bila u ful kondiciji, a da sada tek vraćam kondiciju, ali, ipak, hodanje ni slučajno nije za bacanje.
Sporo Vs. brzo hodanje
Nije za bacanje ni brzina kojom hodamo. Naime, nije isto da li Å¡etamo, ili hodamo sportski, odnosno, brzo.
Pogledajte poređenje dva hodanja, u fazi posle povrede, koliki značaj ima brzina hodanja:
Hajde, dobro, ovaj footing s mužem je značio i da se ponekad malo zapričamo, pa usporimo, ali činjenica je da sam tada, na skoro istoj distanci, za ukupno 5 minuta sporije (što znači da sam za ceo minut sporije prelazila svaki kilometar), potrošila trećinu kalorija manje, nego kada sam jutros ipak malo požurila (#sama).
da li se isplati hodati kao vid rekreacije?
Da. Hodanje je odlična kardio aktivnost koja povećava kondiciju, blagotvorno utiče na srce i mišiće i kojom se troše kalorije.
da li da hodam malo brže?
Apsolutno! Ako svaki kilometar pređete samo za minut brže, u ukupnom učinku na istoj distanci dodajete značajnu količinu utrošenih kalorija. Na gornjem primeru je to bilo čak trećina!
da li da hodam duže?
Da. Pod uslovom da to neće biti sporije. Ipak, dodavanje distance je najveći potrošač kalorija.
da li onda da batalim trčanje?
Ne, ako možeš da trčiš. Za kraće vreme postići ćeš bolje efekte nego hodanjem. Ali, ako imaš bilo kakve probleme zbog kojih ti nije preporučeno trčanje, a nisi u kolicima već koristiš noge, hodaj!
kako da znam koja brzina je za mene idealna?
Ona koja predstavlja izazov. Hodajte onom brzinom na kojoj će vam se ubrzati dah i zalupati srce, ali da se ne iscrpite posle jednog kilometra. Hodajte onom brzinom za koju iskreno možete reći da nije bila šetnja.
[toggle_content title="Hodaj jedan sat dnevno i bićeÅ¡ zdraviji i vitkiji (klik)"]Doctors have found that the simple act of walking for an hour every day can lead to dramatic improvement in the performance of the heart in elderly individuals and help treat obesity. The exercise increases the effectiveness of vasodilation – the contraction and expansion of major heart arteries – by up to 50%. This increased performance leads to a higher hesitance to heart disease and heart attacks. As an additional perk, staying active can help stop weight gain.
Researchers at Stanford University in California drew these conclusions after a study that examined 212 men and women from age 60 to 72. None of the participants had a history of heart disease. The study found that participants with regular and moderate activity levels had heart arteries that dilated approximately 50% more than individuals with low activity levels. Those who engaged in a high energy level activity such as swimming or tennis had heart arteries that dilated twice as much, which helped to keep them at a healthy weight.
Preuzeto odavde.[/toggle_content]
[icon_check]Podelite ovo s prijateljima do čijeg zdravlja vam je stalo. Mnogi misle da je hodanje bez veze i dosadno, a mnogi, opet, da je kasno za njih i rekreaciju. Hodati svako, ko ima obe zdrave noge, može.
Da ste bili sa mnom jutros na keju, videli biste ljude 20, 30 ili čak 40 godina starije od nas, koji hodaju uz pomoć Å¡tapa, uz pomoć kolica za oslonac, uz pomoć svojih krhkih kolena i kukova. Oni hodaju zbog srca. Uglavnom i – iz srca.